Students
Every year adult students come to Mid-State Literacy Council to study with a tutor or take small classes to help them achieve their education and communication goals, including:
Improve English skills
Prepare to pass the GED test
Study and practice for the TOEFL test
Learn computer skills
Increase reading, writing, math, and communication skills
Study for the CDL
Prepare to apply for jobs
Learn new work skills
Prepare for University or Graduate School entrance exams
Prepare for the US Citizenship test
Get a job or a promotion
Volunteer in our community
See the class schedule below or view the print version HERE.
Connect
Do you know someone who is struggling to survive in our community without proficient literacy skills? Do you know someone whose life would improve if they better understood the English language?
To help someone (or yourself!) improve their literacy skills and their life, email us at: mslc@mid-stateliteracycouncil.org or call (814) 238-1809!
Study English at Mid-State Literacy Council 
Summer 2023 program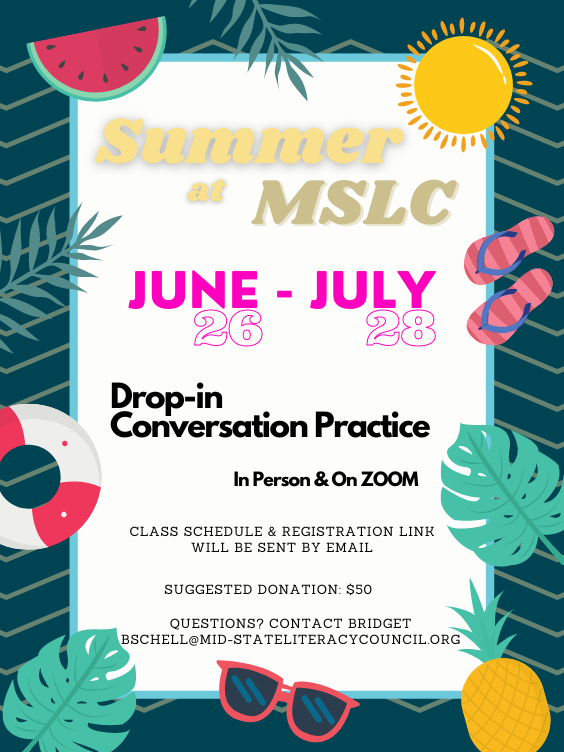 Application
New students are invited to submit their online application HERE.
Language Assessment
New students are invited to schedule an intake to assess your current skills. Please contact Bridget Schell at Bschell@mid-stateliteracycouncil.org
or call (814) 238 – 1809.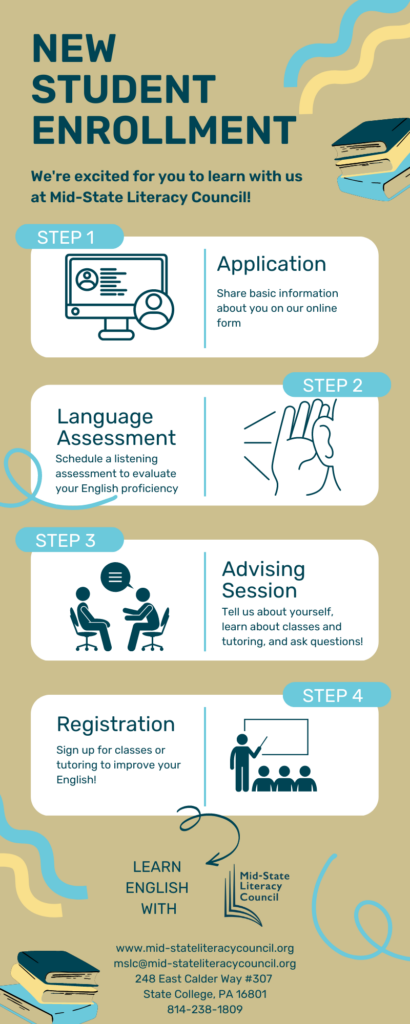 Spring 2023 ESL Program 
[Note: More details for our Fall Semester (September 11-November 17, 2023) are forthcoming]
Basic English for All
Blair Li
Monday & Wednesday
11:30am – 1pm
MSLC Office
Basic English for Spanish Speakers
Tony Guerrero
Monday & Wednesday
1:30  – 3:00 pm
St. Andrew's Episcopal Church
No Book Thursday – Free Bonus Class
Dr. Deryn Verity
Thursday
1:30  – 2:30 pm
MSLC Office
Everyday English 1  (Sec 01)
Jenny Jiang & Yuki Yu
Days: Monday & Wednesday
Time: 11:30 am – 1:00 pm
MSLC Office
Reading & Writing 1  (Sec 01)
Donna Preston
Monday & Wednesday
9:30 – 11:00 am
Zoom
Speaking & Listening 1  (Sec 01)
Spence Ford
Tuesday & Thursday
1:30 – 3:00 pm
MSLC Office
No Book Thursday – Free Bonus Class
Dr. Deryn Verity
Thursday
1:30  – 2:30 pm
MSLC Office
Reading & Writing 1  (Sec 02)
Ming Jiang
Tuesday & Thursday
9:30 – 11:00 am
MSLC Office
Everyday English 2  (Sec 01) 
Karen Dabney 
Monday & Thursday
11:30 – 1:00 pm
Zoom
Reading & Writing 2  (Sec 01)
Jerry Driban
Tuesday & Thursday
1:30 – 3:00 pm
Zoom
Speaking & Listening 2 
Emily Hashem
Days: Monday & Wednesday
Time: 9:30 – 10:45 am
MSLC Office
Everyday English 2  (Sec 02) 
Farheen Ashrafy 
Monday & Thursday
3:30 – 5:00 pm
MSLC Office
Culture & Conversation 2
Robert Leach
Tuesday & Friday
11:30 – 1:00 pm
MSLC Office
Everyday English 3  (Sec 01)
Paula Bigatel
Tuesday & Friday
11:30 – 1:00 pm
Zoom
Reading & Writing 3  (Sec 01)
Eddie Casiano
Monday & Friday
11:30am – 1 pm
MSLC  Office
Speaking & Listening  3  
Adolph Hoehling
Tuesday & Thursday
1:30 – 3:00 pm
MSLC Office 
Reading & Writing 3  (Sec 02)
Betse Esber
Monday & Wednesday
11:30 – 1:00 pm
Zoom
Current Events 3
Sid Doyle
Tuesday & Thursday
9:00 – 10:15 am
Webster's Bookstore Cafe
Academic English for TOEFL
Beste Esber 
Tuesday & Thursday
3:30 – 5:00 pm
Zoom