Become a Volunteer
Spending just an hour or two per week to help strengthen someone's literacy skills is a simple act that makes a profound difference in another's life. We rely on nearly 200 volunteers to help us provide English as a Second Language and basic literacy instruction to more than 200 adults in Centre and Clearfield counties every year.
Volunteers work as private tutors and small group leaders to teach adult learners the literacy skills they need to keep their families healthy, get jobs, earn degrees, become U.S. citizens, gain confidence and give back to their community. Volunteering with Mid-State is a labor of love that personally enriches the tutor almost as much as the student. No prior experience is necessary, and training is provided for all volunteers.
Additionally, if you'd like to get involved with Mid-State but don't wish to be a tutor, we can always use more help with events and other important tasks.
Email us at mslc@mid-stateliteracycouncil.org or call (814) 238-1809 to join our amazing team!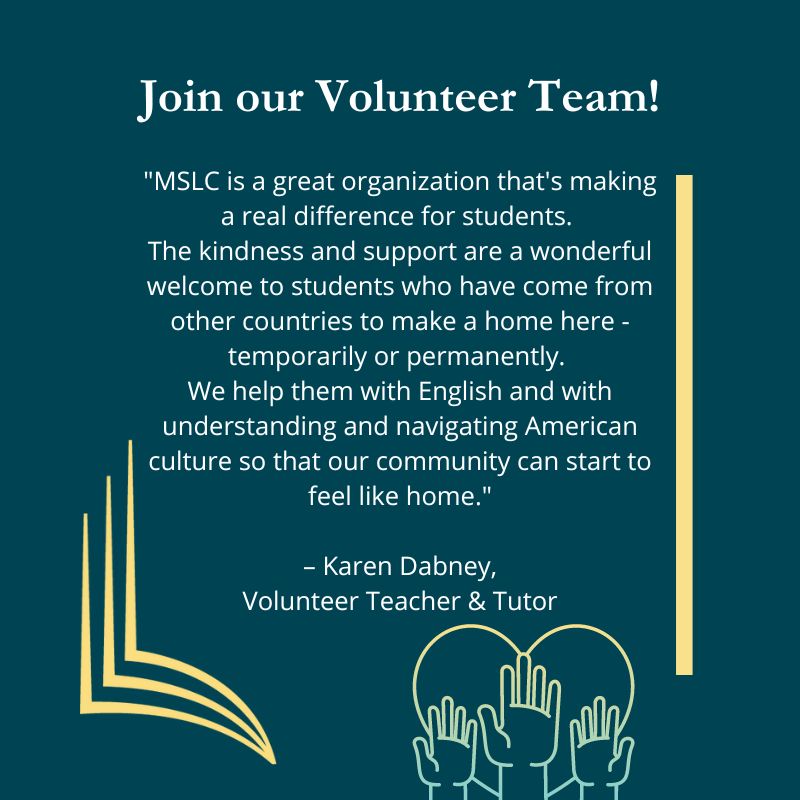 Fall 2023 ESL Program 
10 week semester: September 11-November 17, 2023
Dates and Times are subject to change
Basic English for All (Sec 01)
Elizaveta Mikhailovna Skulskaia
Wednesday & Friday
12:30 pm – 2:00 pm
MSLC Office
Basic English For All (Sec 02)
Mabel Tong & Yan Chen
Tuesdays & Thursdays
10:15 am – 11:45 am
MSLC Office
Basic English for Spanish Speakers

(Sec 01)
Raymond Friend & Lucy Taylor
Tuesdays & Thursdays
12:30 pm – 2:00 pm
St. Andrew's Episcopal Church
Basic English for Spanish Speakers
(Sec 02)
Tony Guerrero
Monday & Wednesday
1:30 – 3:00 pm
Zoom
Everyday English 1  (Sec 01)
Sydney Engleman
Tuesdays & Thursdays
2:30 pm – 4:00 pm
MSLC Office
Reading & Writing 1 (Sec 01)
Ellen Rupp
Tuesdays & Fridays
9:30 am – 11:00 am
MSLC Office
Speaking & Listening 1 (Sec 01)
Edith Pena
Tuesdays & Thursdays
12:00 pm – 1:30 pm
MSLC Office
Conversation 1
talat Azhar
Mondays & Wednesdays
11 am – 12:30 am
Zoom
Speaking & Listening 1 (Sec 02)
Spence Ford
Mondays & Wednesdays
1:30 am – 3:00 pm
MSLC Office
Everyday English 2 (Sec 01)
Farheen Ashrafy
Mondays & Thursdays
3:30 pm – 5:00 pm
MSLC Office
Reading & Writing 2 (Sec 01)
Triwik Kurniasari
Wednesdays & Fridays
1:00 pm – 2:30 pm
MSLC Office
Speaking & Listening 2
Sahar Zaki
Mondays & Wednesdays
10:30 am – 12:00 pm
MSLC Office
Everyday English 2 (Sec 02)
Karen Dabney
Tuesdays & Thursdays
10:30 am – 12:00 pm
Zoom
Reading & Writing 2 (Sec 02)
Donna Preston
Mondays & Wednesdays
9:30 am – 11:00 am
Zoom
Speaking & Listening 2 (Sec 02)
Kevin Harwell
Tuesdays & Wednesdays
3:00 pm – 4:30 pm
MSLC Office
Everyday English 3 (Sec 01)
Paula Bigatel
Mondays & Thursdays
11:00 am – 12:30 pm
MSLC Office
Reading & Writing 3 (with Creative Writing)
Kathy Morrow
Tuesdays & Fridays
1:00 pm – 2:30 pm
MSLC Office
Speaking & Listening 3
Eddie Casiano
Tuesdays & Thursdays
9:30 am – 10:45 am
MSLC Office
Reading & Writing 3  (with Fiction Reading)
Betse Esber
Mondays & Wednesdays
1:00 pm – 2:30 pm
Zoom
Current Events 3
Alex & Abby
Wednesdays & Fridays
10:30 am – 12:00 pm
Webster's Bookstore Cafe
Academic English for TOEFL
Beste Esber
Tuesdays & Thursdays
3:30 pm – 5:00 pm
Zoom
TOEFL Strategies & Practice
Teacher
Days
Times
MSLC Office