Students
Every year adult students come to Mid-State Literacy Council to study with a tutor or take small classes to help them achieve their education and communication goals, including:
Improve English skills
Prepare to pass the GED test
Study and practice for the TOEFL test
Learn computer skills
Increase reading, writing, math, and communication skills
Study for the CDL
Prepare to apply for jobs
Learn new work skills
Prepare for University or Graduate School entrance exams
Prepare for the US Citizenship test
Get a job or a promotion
Volunteer in our community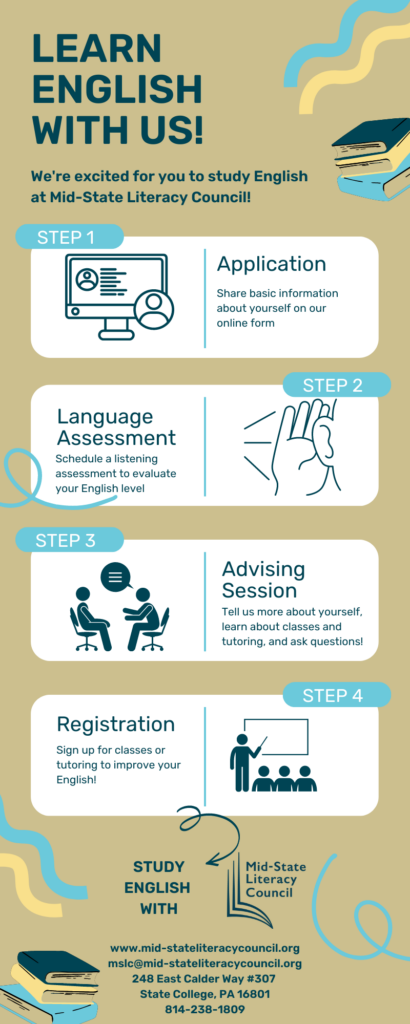 Connect
Do you know someone who is struggling to survive in our community without proficient literacy skills? Do you know someone whose life would improve if they better understood the English language?
To help someone (or yourself!) improve their literacy skills and their life, email us at: mslc@mid-stateliteracycouncil.org or call (814) 238-1809!
Application
New students are invited to submit their online application HERE.
Language Assessment & Advising Session
New Students are invited to schedule an appointment HERE to assess current skill level, share about specific goals, learn about class and tutoring programs, and ask questions!
Registration Fees
10 week semester program
Classes: $195, Choose 3 different classes. Each class meets two times per week for 1.5 hours each.
One-to-one Tutoring: $195, Meet with a tutor for 2 sessions per week. Each session is 1.5 hours.
Semester Schedule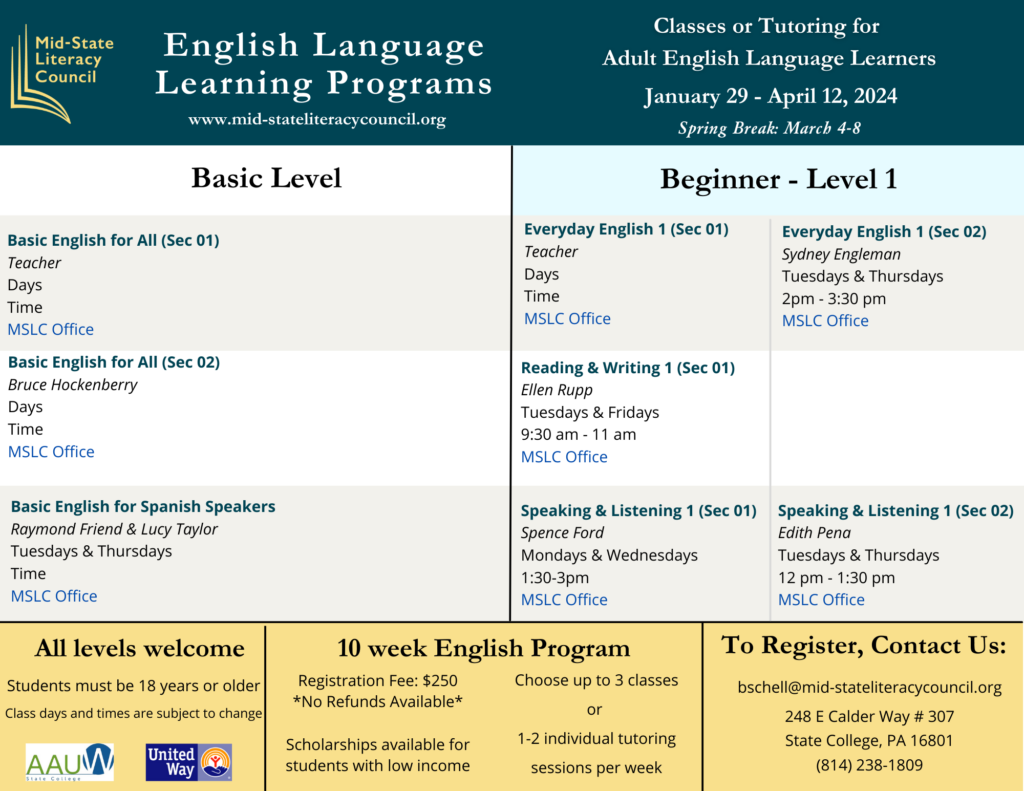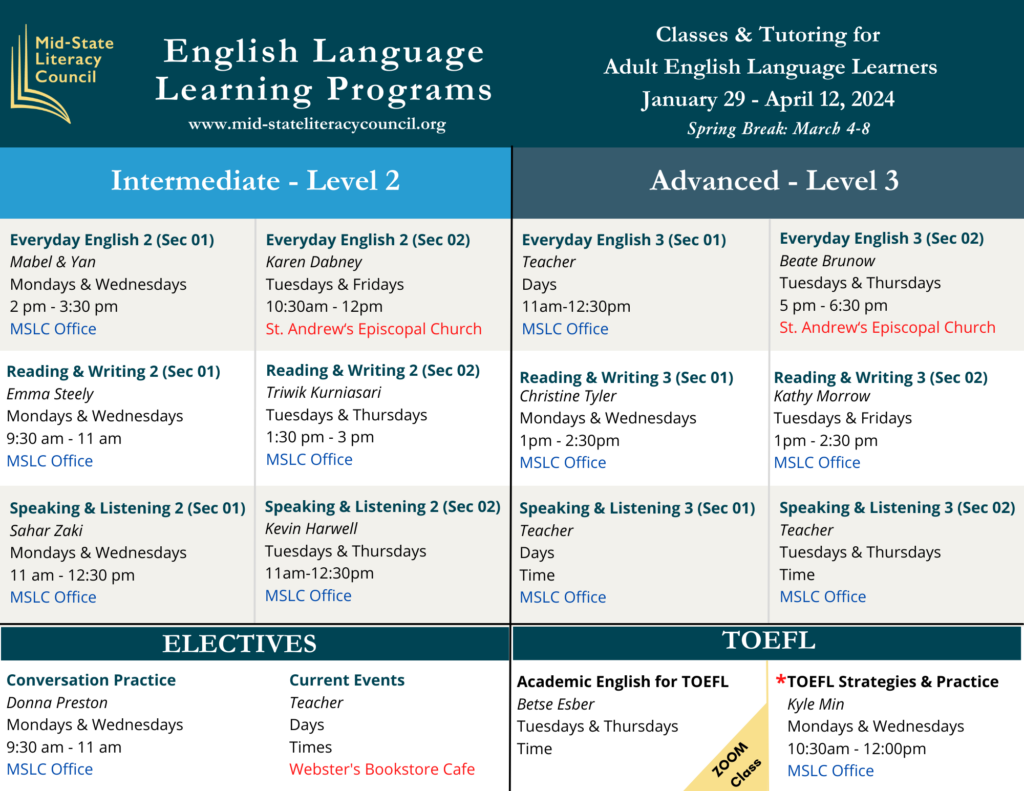 Fall 2023 ESL Program 
10 week semester: September 11-November 17, 2023
Dates and Times are subject to change
Basic English for All (Sec 01)
Elizaveta Mikhailovna Skulskaia
Wednesday & Friday
12:30 pm – 2:00 pm
MSLC Office
Basic English For All (Sec 02)
Mabel Tong & Yan Chen
Tuesdays & Thursdays
10:15 am – 11:45 am
MSLC Office
Basic English for Spanish Speakers

(Sec 01)
Raymond Friend & Lucy Taylor
Tuesdays & Thursdays
12:30 pm – 2:00 pm
St. Andrew's Episcopal Church
Basic English for Spanish Speakers
(Sec 02)
Tony Guerrero
Monday & Wednesday
1:30 – 3:00 pm
Zoom
Everyday English 1  (Sec 01)
Sydney Engleman
Tuesdays & Thursdays
2:30 pm – 4:00 pm
MSLC Office
Reading & Writing 1 (Sec 01)
Ellen Rupp
Tuesdays & Fridays
9:30 am – 11:00 am
MSLC Office
Speaking & Listening 1 (Sec 01)
Edith Pena
Tuesdays & Thursdays
12:00 pm – 1:30 pm
MSLC Office
Conversation 1
talat Azhar
Mondays & Wednesdays
11 am – 12:30 am
Zoom
Speaking & Listening 1 (Sec 02)
Spence Ford
Mondays & Wednesdays
1:30 am – 3:00 pm
MSLC Office
Everyday English 2 (Sec 01)
Farheen Ashrafy
Mondays & Thursdays
3:30 pm – 5:00 pm
MSLC Office
Reading & Writing 2 (Sec 01)
Triwik Kurniasari
Wednesdays & Fridays
1:00 pm – 2:30 pm
MSLC Office
Speaking & Listening 2
Sahar Zaki
Mondays & Wednesdays
10:30 am – 12:00 pm
MSLC Office
Everyday English 2 (Sec 02)
Karen Dabney
Tuesdays & Thursdays
10:30 am – 12:00 pm
Zoom
Reading & Writing 2 (Sec 02)
Donna Preston
Mondays & Wednesdays
9:30 am – 11:00 am
Zoom
Speaking & Listening 2 (Sec 02)
Kevin Harwell
Tuesdays & Wednesdays
3:00 pm – 4:30 pm
MSLC Office
Everyday English 3 (Sec 01)
Paula Bigatel
Mondays & Thursdays
11:00 am – 12:30 pm
MSLC Office
Reading & Writing 3 (with Creative Writing)
Kathy Morrow
Tuesdays & Fridays
1:00 pm – 2:30 pm
MSLC Office
Speaking & Listening 3
Eddie Casiano
Tuesdays & Thursdays
9:30 am – 10:45 am
MSLC Office
Reading & Writing 3  (with Fiction Reading)
Betse Esber
Mondays & Wednesdays
1:00 pm – 2:30 pm
Zoom
Current Events 3
Alex & Abby
Wednesdays & Fridays
10:30 am – 12:00 pm
Webster's Bookstore Cafe
Academic English for TOEFL
Beste Esber
Tuesdays & Thursdays
3:30 pm – 5:00 pm
Zoom
TOEFL Strategies & Practice
Teacher
Days
Times
MSLC Office